Mother's Day Special Treatments
Choose from 2 Special Mother's Day Treatments
Treatment #1 includes two take home products:
A Biomolecular Sheet Mask and Yana "a shot of Collagen"
MOTHER'S DAY SPECIAL #1: 02 MICRO LIFT TREATMENT
A breath of Fresh Skin! Microdermabrasion meets oxygen meets oxygen therapy for instantly radiant skin. A traditional microdermabrasion treatment is followed with reveolutionary oxygenating masque and stem cell infusiion leaving skin exfoliated, oxygenated and illuminated
.
Regularly $126.00 Special Mother's Day Price $108.00 (a 15% savings)
Treatment #2 includes three take home products:
A Biomolecular Sheet Mask and Yana "a shot of Collagen"
and a Post Treatment Kit
MOTHER'S DAY SPECIAL #2: LIGHTENING LIFT PEEL OR WRINKLE LIFT PEEL
Lightening Lift Peel - Uneven complexions have met their match. This results-driven treatment combines the most innovative and effective botanical brighteners luminescine and seashine with echinacea plant-derived stem cells and anti-aging peptides immediately leaving the skin younger looking and luminous. For pigmentation, photo damage, sun/dark spots and melasma.
Wrinkle Lift Peel - This ultra-resurfacing blend of glycolic acid combines with retinol visibly reduces the appearance of fine lines and wrinkles leaving skin firm and revitalized. Buddleja stem cells reduce irritation and diminish photo-aging, botanical coffee and peppermint energize, while eucalyptus and ylang ylang purify the skin. For aging, fine lines and wrinkles.
Regularly $120.00 Special Mother's Day Price $102.00 (a 15% savings)
Treat yourself or your mom to "The Best of Image for Mother's Day
(it comes in an elegant box that can be reused)
Regularly $139.00 Pam's Special Price: $95.00!
Only while supply lasts! Special price for set only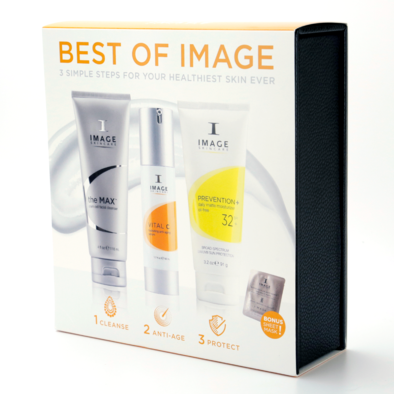 Discover the bestselling IMAGE Skincare products that sweep away dullness, fight signs of aging, and defend the skin against damage. This set contains four favorites powered by smart botanicals and proven active ingredients. For all skin types, these are your start-to-finish essentials for healthy, glowing skin.
Set includes:
The MAX stem cell facial cleanser 4oz: Powered by an advanced polypeptide complex and plant-derived stem cell technology to turn cleansing into a luxurious experience. Normally retails for $29.00
VITAL C anti-aging serum 1.7oz: Works effectively on all skin types to soften the appearance of wrinkles, support collagen, and protect skin against oxidative damage. Normally Retails for $64.00
Prevention+ daily matte moisturizer oil-free SPF 32 3.2oz: Delivers high sun protection in a mattifying, antioxidant-rich base that's perfect for oily and acne-prone skin types. Micro-sponge technology absorbs surface oils and gives skin a flawless, shine-free finish. Normally Retails for $39.00
I Mask biomolecular anti-aging radiance mask (1 sheet mask): Delivers a powerful infusion of ingredients that hydrate and brighten for an instantly refreshed appearance. Patented, 3D design traps in moisture and active ingredients to ensure optimal anti-aging and hydrating benefits. Normally Retails for $8.00.
NOTE: To make your appointment on line (click the book now button) and you can sign up for Mother's Day Special #1 or #2. If you prefer to reach me, the quickest way is by texting me at 703-929-0052. Or, e-mail me at pamela.gaddy@gmail.com or call me at 703-929-0052.